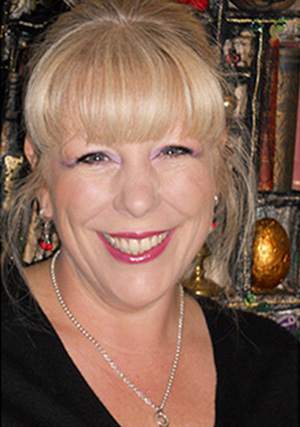 I am a textile artist living and working in Oxford.
I am an inveterate collector; a "snapper up of unconsidered trifles"
A bottle of sand from Petra, old books, clock parts, a stuffed crow line the shelves of my studio.

But textiles form the basis of my practice. Quilts; stitched, painted and acid etched often tell stories, embellished with found
objects, photo transfer and text. Cabinets of Curiosity; hand made shrines and boxes covered with stitch and fabric built to house a fantastical mix of made and altered objects.

Nothing is sacred — everything is precious.

I constantly alter things, books are carved into boxes to hold objects, bottles are filled with sand, seeds, tiny scrolls, stitching is set into resin to create coloured windows.

But it always comes back to fabric and thread; which quite literally stitches everything together and remains a constant.

I gained a Masters Degree in Contemporary Fine Art from Oxford Brookes University in 2006 and I continue to exhibit and give a range of workshops and illustrated talks to groups and schools. I have work in University and Private Collections both in the UK and abroad.
Exhibitions
Stitch Odyssey - Graham Sutherland Gallery, Wales - 2001

Group Exhibition - Modern Art Oxford - 2004, 2006

Joint Exhibition - Oxford Town Hall Gallery - 2005

Group Exhibition - Stanton St John Gallery, Oxford - 2009

Festival of Quilts - NEC, Birmingham - 2010, 2011, 2012, 2013

Pour L'amore du Scrap - Lille. France - 2012

Knitting and Stitching Show - Olympia, London - 2014